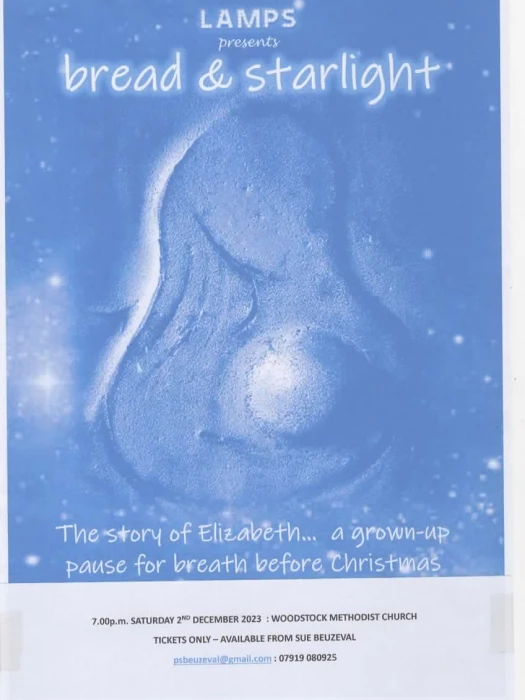 LAMPS Production 'Bread & Starlight': The Story of Elizabeth – a grown up pause for breath before Christmas
We are hosting this production at Woodstock Methodist church on behalf of Churches Together in Woodstock & Bladon on Saturday 2 December at 7.00pm. Tickets are now available on a first come, first served basis from Sue Beuzeval at a cost of £10 each.In this one-woman show for Advent, Elizabeth, mother of John the Baptist, recalls the months of her pregnancy and a very special visitor. Touching on the themes of mystery and miracle, what is temporary and what lasts, Bread and Starlight combines storytelling, song and space for reflection in the lead up to Christmas.
Lamps Collective is a group of professional writers, actors, and musicians whose Christian faith underpins their lives and work. LAMPS productions seek to inspire, challenge, and entertain. To provoke thought about the nature of God and life. To resource the church, refresh its members, and reach out beyond its walls. LAMPS is an acronym which stands for Love, Action, Music, Poetry and Stories – all things close to their hearts!